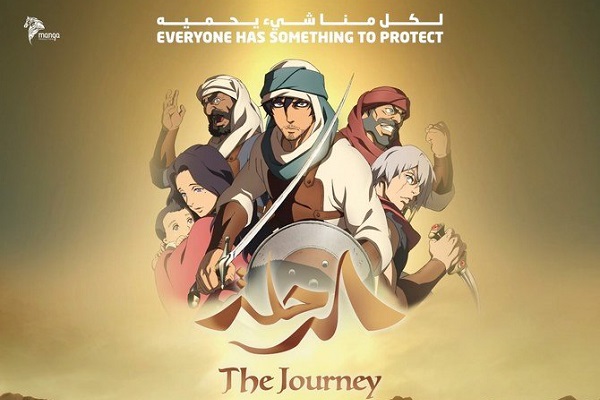 Saudi-Japanese anime 'the Journey' in theaters now
The film involved a team of 300 Saudi specialists who worked alongside their Japanese counterparts.
The trip, a Saudi-Japanese anime, which premiered this month in Riyadh, Jeddah and Dubai, premiered in Tokyo on June 27 and hit theaters in nine Arab countries.
The film by Manga Production Company, a subsidiary of the MiSK Foundation of Saudi Arabia, was produced in cooperation with the Japanese Toei Animation. Actors Toru Furiya, Hiroshi Kamiya and Takaya Kuroda, who dubbed the film in Japanese, joined director Kobun Shizuno and executive producer Shinji Shimizu at the premiere. Several Japanese MPs and business leaders also attended the event, as well as a large media presence.
The film is the first Saudi film to be available in 4DX technology.
Inspired by Arab folklore, The trip tells the story of Aws, a potter with a secret past, who is caught in an epic battle to defend his city. Japanese dubbing artists include names well known in the Japanese region such as Toru Furuya, Takaya Kuroda, and Hiroshi Kimiya, while the Arabic version has been dubbed by artists such as Abdu Shaheen, Rasha Rizq, and Nassar AlNassar.
Directed by Shizuno Kobun, The trip was shot using anime style animation and took two and a half years to make.
The Kingdom's Ambassador to Japan, Nayef Al-Fahadi, said this epic tale that presents our ancient civilization in the Arabian Peninsula is an attraction that supports the path of rapprochement between the two friendly peoples that has stretched since 1955.
He stressed that the government of the Kingdom welcomes all efforts that would strengthen relations between the two friendly countries at all levels.
Manga Productions CEO Dr Issam Bukhari said that Saudi Arabia and Japan have built their relationship through the oil trade, and today this relationship is further consolidated and strengthened through the close partnership in the field of culture and entertainment, such as the content industry.